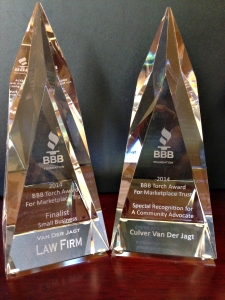 BBB's 2014 Torch Awards for Marketplace Trust were awarded last week. Culver Van Der Jagt from Van Der Jagt Law Firm was the winner of a 2014 Torch Award for Marketplace Trust in Special Recognition for a Community Advocate and Van Der Jagt Law Firm was a finalist for the small business category.
Culver Van Der Jagt received the award for his remarkable level of community advocacy with the admirable goal of breaking the cycle of domestic abuse in our community.
"We strongly believe in finding the root of the problem and addressing it head on… We all have a duty to stop it, but some are in a better position to break the cycle than others," said Van Der Jagt. "We know how to get our clients to believe in themselves." Through close work with local shelters, the firm has a clear presence within the community.
This is the 12th year for the Torch Awards. It is a tribute to those who exemplify an outstanding commitment to fair, honest, and ethical practices. Each organization goes through a tedious application process to demonstrate its commitment to ethics and their community leadership. There are several categories for the Torch Awards ranging from small business to non-profit.
"Marketplace trust is more important than ever, and the Denver/Boulder BBB is proud to honor Colorado companies who conduct business with integrity and excellence." said BBB Board Chair Trish Thomas.
The Van Der Jagt Law Firm and its lawyers have over 60 online reviews, which speak for themselves.  The firm maintains a highly respectable status with the BBB having won this award after winning two BBB Gold Star awards.  In 2012, Van Der Jagt also won the Avvo Client's Choice Award for Divorce attorneys.