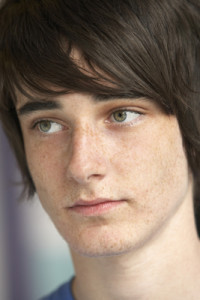 When parents go through a divorce, it is hard not only the the parents but children as well, including teenagers. Your teenager is at an age when they developing a sense of identity, and a divorce can have a huge impact on them. There are several ways that you can help your teen cope with divorce.
When teenagers try to cope with a divorce, the first thing they may try and do is place blame. Usually, they will put a great deal of blame on themselves and believe that it was their grades, behavior, or other issue that caused their parents to split. The best way to keep this self-blame from happening and to help your teen maintain their self-esteem is to be honest about the reasons for the divorce. It is important for your teen to know that it was nothing they did or did not do that caused the divorce. While you don't have to divulge every detail, being as honest as possible will keep your teen from blaming his or herself for the split.
Another way to help your teenager cope with the divorce is to help them maintain a routine. While a divorce typically causes disruption in the household, it is vital for your teen to be able to attend after school sports and club meetings and meet with friends as usual. The more your teen can keep on doing the things that bring him or her the most joy and stability, the better they will be able to cope with the divorce. While teens are better equipped to handle change than younger children, if all aspects of their lives change at once, it will make them feel as if they have no control over anything. This may lead to the development of emotional problems that will cause problems later on.
Each teenager copes with divorce differently, but in order to help them through the trauma of the split, it's vital that you do all you can to ensure their continued emotional development. While it's going to be a hard time for everyone, teenagers are at the greatest risk for depression and emotional upset, but helping them cope effectively is the best way to ensure that they come through it with the least trauma possible.