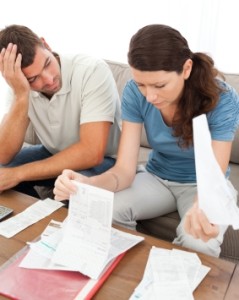 There are many things that can complicate divorce proceedings, but one of the most common one is bankruptcy. If it is evident that one of you will be filing for bankruptcy around the time of your divorce, it may be suggested that you file bankruptcy jointly before divorce.
Since the divorce process is mostly about dividing and allocating property, assets and debt, the division of debt is a component that effects the amount of property that is given to each party. Although it may be suggested that you file for bankruptcy together before divorce, you should seek the services of a trained Colorado Divorce lawyer before making a final decision. No matter what choice you make, it is important to be aware of how bankruptcy will affect your divorce proceedings.
The Automatic Stay
Once a bankruptcy petition is filed, that will stall or stop many proceedings like garnishments of wages, foreclosure and collection actions. This automatic stay or stop of proceedings can have many different impacts on your divorce.
Property and Divorce
An automatic stay is applicable to property during the divorce proceedings. Therefore, a bankruptcy petition can be used to stay any act to gain possession of the property. This results in the inability of any spouse to gain possession of property during divorce, because this would be in violation of the automatic stay. Not adhering to the automatic stay can result in paid penalties against the non-debtor spouse. Automatic stays can really complicate the property division process during a divorce. In order to proceed with the division of property a spouse must file a motion of relief from the stay.
Support Obligations
An automatic stay is in reference to property, but it is not applicable during paternity actions or domestic support obligations. This results in there being no motion of relief during the support obligation process in reference to a divorce during bankruptcy in Colorado. However, there are a few exceptions to this rule that you must be aware of. There are some limitations to the methods that can be used to collect child support payments. It is impossible to garnish bank accounts or put a lien on a residence of the debtor, because these instances would be in violation of the automatic stay.
Filing for bankruptcy while going through a divorce in CO is a complicated process that requires the knowledge and expertise of a trained legal professional.